To support objectives set by the French government to achieve carbon neutrality by 2050 and to play our part in mitigating the effects of global warming, we have adapted our motorways and offer new, more sustainable mobility services that will reduce CO2 emissions generated by traffic.
Interview with the CSR Director
Fostering electromobility on motorways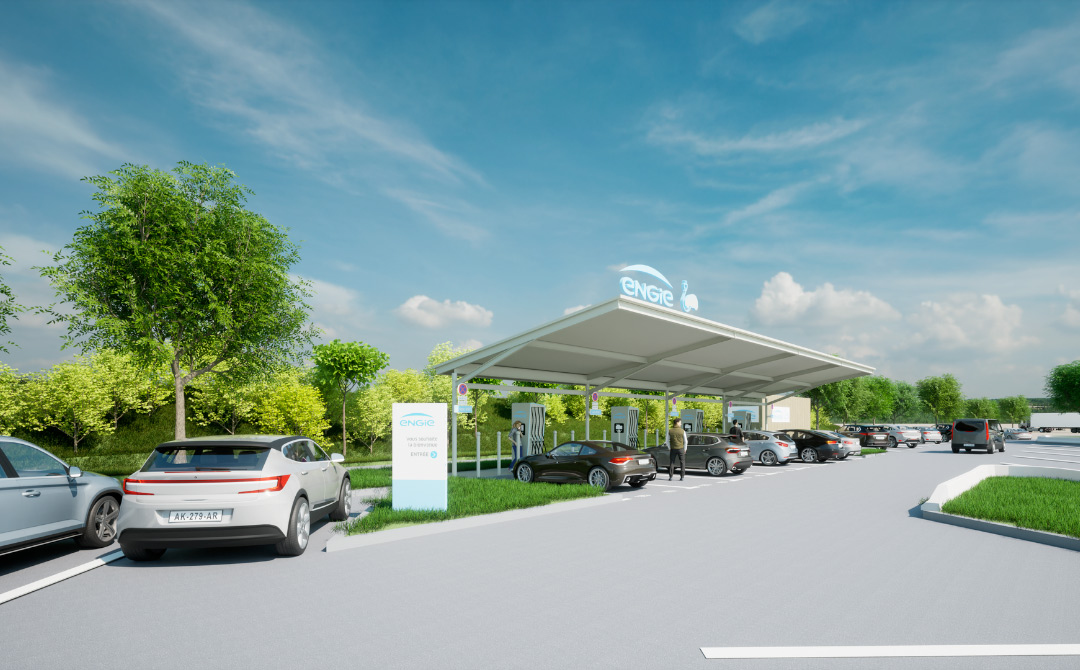 In order to meet the challenges of climate change and guarantee the best service to our customers, we will be equipping all our service areas with ultra-fast (+ 150kW) electric charging terminals by the end of 2022.
These electric charging terminals provide a recharge of 80% autonomy in just 15 minutes, equivalent to the average time people spend on a break at our motorway rest areas.
These terminals are accessible to all electric vehicles in circulation and will be available 24 hours a day, 7 days a week.
Service areas guarantee an offering calculated to meet demand at peak traffic times (weekends and holidays, rush hour periods during the week, etc.).
To guarantee a fast and easy service, the charging terminals allow for bank card payment at the time of charging, similar to petrol and diesel fuels..
Decarbonising road transport
We are currently carrying out trials with the aim of developing a viable model for the decarbonisation of heavy goods vehicles.
Making motorway carpooling easier
Convinced that carpooling is a key approach to achieving mobility decarbonisation, several years ago we embarked on a major carpooling car park construction programme.
These free and secure car parks, developed in partnership with public decision-makers and sustainable mobility stakeholders, are accessible from secondary networks. They have been a resounding success, having clocked up an average occupancy rate of 80% and being awarded a score of 8/10 by their users.
By the end of 2022, the programme will have seen the construction of 1,500 carpooling spaces and we will be continuing our efforts in this regard over the next few years!
In addition to creating car parks, we are drawing up plans for motorway carpooling lanes. These lanes, situated in the left-hand lane, will enable traffic congestion to be avoided and time to be saved, a real boost for users' purchase power and reduction of their carbon footprint. Studies are currently underway with regard to these carpooling lanes on the A13 and A4 motorways.
Free-flowing motorways
A more free-flowing and environmentally-friendly trip between Paris and Normandy
Commencing 2024, the Paris-Normandy motorway (A13 and A14) will be the first motorway route to be entirely converted to free-flow tolling (no barrier at the toll gate).
This system has already been rolled out with great success abroad. The free-flow motorway enables customers to drive without stopping to pay the toll. In practical terms, the project consists in dismantling existing toll barriers and replacing them with gantries that detect and identify vehicles when they pass through.
The aim of this free-flow motorway project on the major route between Paris and Caen (up to 120,000 vehicles per day) is to reduce congestion, reduce the emission of greenhouse gases and improve the drawing power of regions in Île-de-France and Normandy through with the motorway passes.