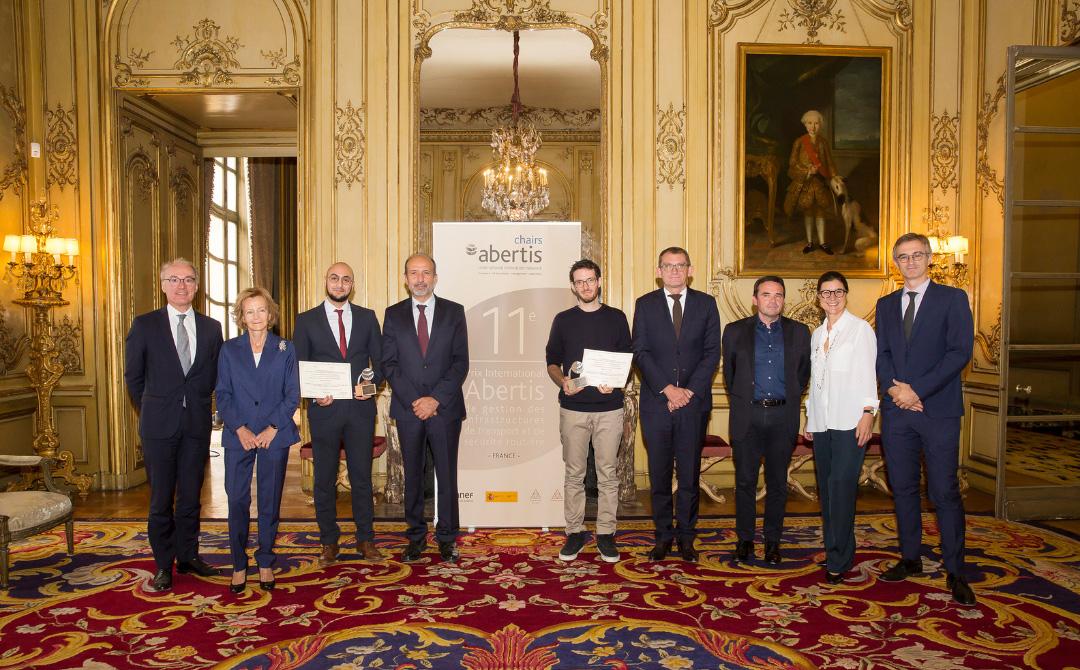 The 11th prize ceremony for the Sanef Abertis Chair - École des Ponts ParisTech was held on September 23, 2022, in the prestigious Spanish Embassy.
Created in 2011, this Chair aims to develop training and research activities in the management of transport infrastructures, carried out in a French university or engineering school.
The Sanef-Abertis Chair in Transport Infrastructure Management
Aware of the importance of links with the academic world, Abertis and its Foundation have developed an international network of chairs in the countries where the group is present. Its purpose is to encourage research and reward thesis work on transport infrastructure management and road safety.
Arnaud Quémard, Managing Director of the Sanef group, explains: "This Sanef-Abertis-Ecole des Ponts Paristech Chair symbolizes the close link between Sanef-Abertis and the academic world. We are convinced that these two worlds must be closely linked to provide better training for the needs of companies, better meet the requirements of safety and sustainability and prepare for the mobility of the future. This is precisely what we are building with the Ecole des Ponts ParisTech. »
Elena Salgado, President of the Abertis Foundation: "Our network of Chairs, initiated in Spain in 2003, is a commitment by the Abertis Group, through its Foundation, to promote fruitful collaboration between universities and the business world. Our Chairs are present in 7 countries and all aim to promote social and economic progress by promoting training, research and knowledge transfer. »
The winners of the 11th prize selected by the jury
The jury was able to appreciate the very high quality of the candidates' work and, after very rich discussions, designated the new winners.
New this year: a special CSR (Corporate Social Responsibility) mention has been granted to encourage work in this way of the future and to propose concrete solutions to accelerate the decarbonization of mobility.
Thesis category "Management of transport infrastructure":
Mr. Romain CLERC, University of Nantes, on "the estimation of the spatial variability of corrosion parameters and its necessity for the maintenance plans of maritime reinforced concrete structures. ".
Thesis category "Transport infrastructure management" with special mention CSR
Mr. Bassel OTHMAN, University of Grenoble-Alpes "Variable speed limits and access control in an urban road network for better environmental sustainability. ".
The 2022 jury for the Sanef Abertis France - Ecole des Ponts ParisTech prize is made up of:
For the Ecole des Ponts ParisTech
Mr. Emmanuel GIRARD, Deputy Director of Research at ENPC,
Mr. Gilles FORET, Research Director at ENPC.
For the SANEF group
Ms Christine ALLARD, Director of Communication and Institutional Relations
Mr. Julien CASTRES SAINT MARTIN, Infrastructure Director,
Mr. Baptiste ESCOFFIER, Deputy Director of Information Systems,
Mr. Édouard FISCHER, Innovation and Transformation Director,
Mr. Julien POINTILLART, Deputy Director Environment and CSR.