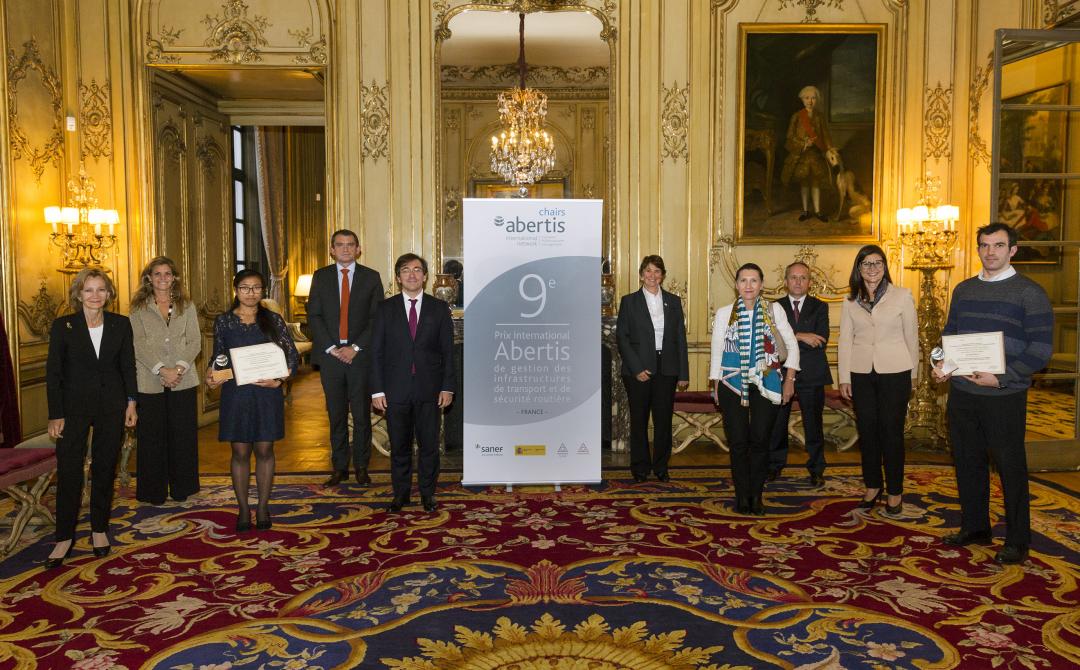 The agreement for the new Industrial Chair was signed on 1 October 2020 by Sophie Mougard, Director of the École des Ponts ParisTech and Arnaud Quémard, Managing Director of Sanef, at the Spanish Embassy in Paris.
On this occasion, the 9th Sanef Abertis Chair prize was also awarded to the 2020 winners.
A new Sanef-Ecole des Ponts ParisTech Chair
Through its work, the new Sanef-Ecole des Ponts ParisTech Industrial Chair wishes to acquire exhaustive knowledge of the condition of this component of engineering structures in order to make them safer, extend their life span, avoid lengthy work and maintenance phases that create inconvenience and congestion and, of course, ensure the safety of the users and residents who use them.
Thanks to an approach that breaks with the usual techniques, Jonas Aparicio, an engineer from the École des Ponts, is proposing to develop an inspection method based on the principle of radar, using an electromagnetic wave sent onto a cable and an analysis of its reflected wave.
The Sanef-Abertis Industrial Chair will be directed by Gilles Foret, research director and professor at the École des Ponts ParisTech, an expert in materials and structures for civil engineering. It will also be supervised by Sanef through Julien Castres St Martin, Director of the Sanef Group's Heritage Department and Yannick Jeanjean, Head of Civil Engineering at the Sanef Group.
Award ceremony for the 9th Sanef Abertis France - Ecole des Ponts ParisTech Chair award
Aware of the importance of links with the academic world, Abertis and its Foundation have developed an international network of chairs in the countries where the group is present. Its purpose is to encourage training, research and the transfer of knowledge to companies. The network consists of leading national and international universities and academic institutions.
Each year, the Sanef-Abertis France Chair awards:
Doctoral theses on transport infrastructure management,
Doctoral theses on road safety,
Christine Allard, Director of Institutional Relations and CSR, said: "This chair symbolises the link between Sanef-Abertis, the world leader in infrastructure management, and the academic world. We are convinced that these two worlds must be closely linked in order to provide better training for the needs of companies in order to better respond to the imperatives of safety, sustainability and inclusion. This is precisely what we want to build with Ecole des Ponts ParisTech."
The winners of the 9th prize selected by the jury
Category Theses Transport Infrastructure Management:
Ms Malalatiana RANDRIAMASY, University of Rouen Normandie: " Localisation and transmissions secured for vehicle to infrastructure communication. Application to the electronic toll service".
Category Road Safety Theses:
Mr. Yann MENEROUX, University of Paris Est / IGN: "Statistical learning methods for the detection of road signs from tracer vehicles".
The 2020 Sanef Abertis France Prize jury is composed of:
For the École des Ponts ParisTech
Ms Françoise Prêteux, Director of Research
Mr Gilles Forêt, Research Director, Professor
For the SANEF Group
Ms Christine Allard, Director of Institutional Relations and CSR
Mr Guy Frémont, Head of Prospective
Mr Vincent Fanguet, Director of Operations
Mr Julien Castres Saint Martin, Deputy Director of Heritage