Constructing the motorways of tomorrow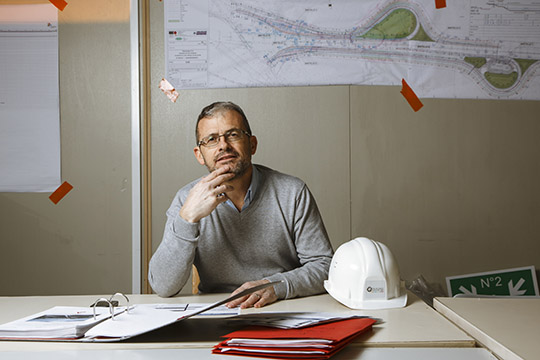 For more than 50 years, Sanef has been ensuring the modernisation and development of its network in order to provide maximum comfort and safety to its customers. Our teams are in charge of maintaining the quality of existing infrastructure and developing our motorways while making sure that traffic flows smoothly and service quality is maintained for motorway customers.
To ensure the quality of our infrastructures, our employees are not only responsible for monitoring and maintaining 1,975 of the Group's structures, and managing all major maintenance and renewal projects necessary to preserve structural assets, they also represent the Group in its dealings with territorial councils, national administrative authorities and other public and private partners.
And that's not all. Our teams manage projects for investments in the Group's new infrastructures:
Civil engineering works
Investments in motorways already in service (addition or widening of lanes, slip roads and interchanges)
Modernisation of toll payment plazas
The environment and technology
Sanef is committed to environmental protection and places sustainable development at the heart of its operations: green spaces alongside the motorway, protection of aquatic environments, biodiversity, preventing noise pollution, waste management, eco-design, and more besides. The mission of our teams is to preserve the environmental heritage of the areas traversed by our motorways.
The territorial grid covered by Sanef enables us to roll out a large number of technologies that we develop and maintain: fibre optics, pylons, toll payment plazas, interphones, video surveillance, LAN and WAN networks, etc. Our employees ensure the effective functioning of these infrastructures and manage the associated technical assets: engineering for Communication Networks and Systems, energy networks, public lighting, and project planning and implementation. With regard to telecommunications, we market offerings for fibre optics and data centres through our Sanef Télécoms brand.
Some examples of different jobs
- Project coordinator
- Design research manager
- Technical manager
- Infrastructure technician

Videos of our different jobs